Tuesday, July 19th, 2005, 2:55 am
Ubuntu Weaknesses

Filed under:
Roy Schestowitz
at 2:55 am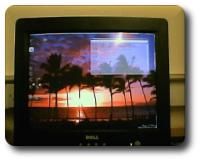 My machine at work, which
runs Ubuntu Linux (see daily photolog)
buntu is a Linux distribution that is based on Debian and resembles it too. This Gnome-based (also see KDE version) distro from Canonical is self-contained, very reliable and comes as a 1-CD installation (will be shipped to your home for free), which is a big pro in many people's eyes. Its simple user environment and low level of verbosity make it friendly, much like Mac OS and Windows. Under the hood, it still offers the full strengths that Linux possesses.
Ubunutu is well-known as a great distro for Linux beginners. Moreover, its straight-forward and fast installation process (took me 20 minutes to install), as well as stability made it the subject of envy to many. It comes with many excellent programs, e.g. Open Office, the GNU Image Manipulation Program (GIMP), Firefox and Evolution. Quite amazingly, all are contained in the single CD, not to mention a wide range of drivers and add-ons.
As a final cautionary word, do not judge the whole of Linux based on Ubuntu. I run Ubuntu in the office only to function as a node by which to SSH my SuSE box at the University. Ubuntu is reliable, but somewhat weak compared with pre-loaded operating systems.

Comments Off
|

Send this to a friend