Filed under:
Roy Schestowitz
at 5:34 pm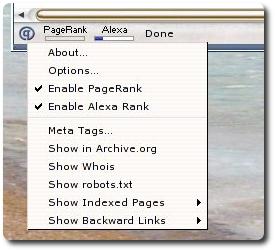 Search
Status
– one among many
Firefox search toolbars

LUG-INS have become very popular among Open Source projects. They enable an application to be extended endlessly by its community without getting bloated at the very core. At present, you can come across a large variety of plug-ins for the Mozilla family and many of these plug-ins tend to be more playful than practical. They serve no pragmatic purpose or even a purpose other than amusement. Most of them offer nothing beyond an enjoyable 1-minute time-burning. Examples from Mozilla Firefox:
Extension to display your IP address
Extension to diplay the Google icon in the status bar whenever you visit Google
National security threat level in your panel
All of these plug-ins simply do what they claims to be doing. No more, no less. These are 'proof of concept' examples; very basic examples, almost as fundamental as the infamous "hello world", but ones which exploit the Firefox API's for independent developers. These often get unjustifiable low ranks, which criticise their presence rather than quality. This bugs me at times.
Plug-ins are indeed sometimes pointless, but they should do what they say on the tin. Why do people install such plug-ins and then whine about them? If you don't need a plug-in, don't get it installed in the first place, I say. I continue to see review of what is admittedly incomplete or lacking. Better not review or not download literature and code if the description does not sound pleasing. Review is unfortunately used as means of punishment for time-consuming activities or dissapointments, which were all along called for (and voluntary). Rank, popularity and value must be separated altogether.

Comments Off
|

Send this to a friend