Saturday, March 11th, 2006, 5:01 pm
Spam from the Future

Filed under:
Roy Schestowitz
at 5:01 pm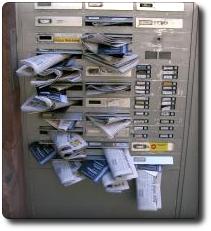 PAMMERS are not utterly dumb. They constantly learn how to get past the filters and receive more attention from their recipient. Subject lines are often fudged in such a way so that they beg to be read, but it doesn't stop there.
Consider, for instance, spam that goes 'on top of the pile' by having a future date (thus the title of this essay), assuming reverse chronological mail readers. Such spam can stand outamong the pile of trite spam. Also consider spam with very odd dates, no dates or ones which goes years and decades into the past. In the latter case, this puts message at the bottom edge of the inbox, which again, appeals for more attention.
Lastly, and perhaps most annoyingly, certain spam is being sent with a sender address which resides the recipients domain, which can under many circumstances have it automatically whitelisted.

Comments Off
|

Send this to a friend