Filed under:
Roy Schestowitz
at 1:36 pm
Video download link | md5sum 1df78d5342750f6e4e11cfa4536aa0da
To Developers, Canonical Not the Same Anymore
Creative Commons Attribution-No Derivative Works 4.0
Summary: A former client of my former employer (we supported postgres for them) has just lost a key developer and then resorted to 'hijacking' a project, exploiting the Contributor License Agreement (CLA); yes, Canonical is becoming more "closed", just like Red Hat, so Free software proponents won't stick around for much longer
THERE is a familiar sight. The symptoms strike a nerve.
A very short time after I had announced my resignation from Sirius 'Open Source' (that was before I even knew about the crimes, which I wrote about today in my personal site), someone from Canonical did the same thing and told a similar story. My wife joked that maybe he was inspired by us, but who can ever prove such a thing?
The video above discusses what happened this month and explains similarities to what happened last year at Sirius 'Open Source'.
As a reminder, Canonical is a former client of Sirius. It shows it right there in the front page and footer, it's not a secret: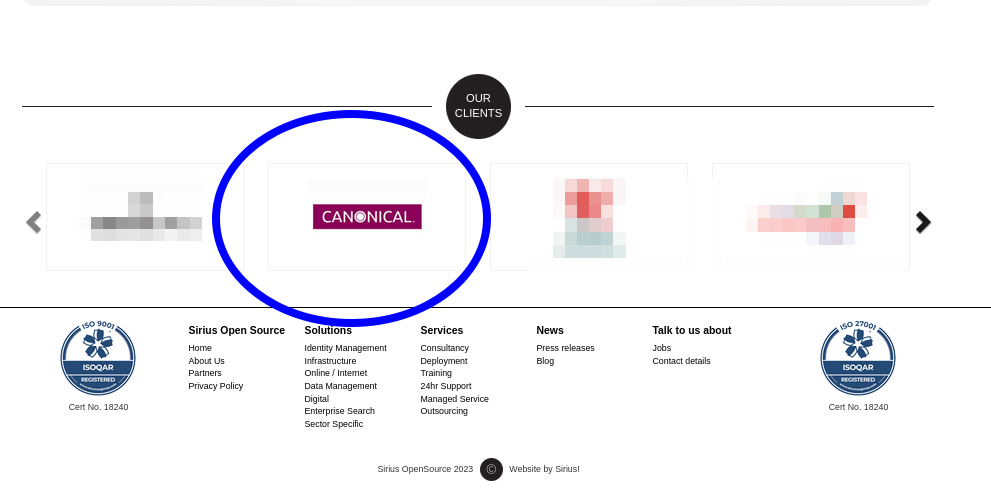 In any event, days ago Stéphane Graber (Launchpad member since 2005-09-26) resigned from Canonical and it doesn't look pretty. Consider this original departure message and little other coverage that followed (any further updates clustered here in the future; we didn't see this in LWN or Phoronix). To quote little coverage we found (from OMG! Ubuntu!): "Stéphane Graber has announced their resignation from Canonical after 12 years of working at the company, mostly on LXD. The decision follows news last week that Canonical has taken the LXD project in-house after years of it existing as a community endeavour under the Linux Containers (LXC) umbrella. Stéphane's engineering expertise and enthusiasm for LXD (and containers in general) has arguably made them the "face" of LXD. In social media replies to their (somewhat unexpected) decision, many have commented on this and thanked them for their contributions and help over the years."
"As a reminder, Canonical is a former client of Sirius."He wrote many blog posts in the official Ubuntu site, albeit not in recent years (nothing since 2019).
"It's a very bad situation for LXD / LXC due to Microsoft control and influence over Canonical," one reader told us. We've recently shown just how close Canonical was getting to Microsoft, so maybe LXD work (and staff) was being chained to Microsoft's proprietary surveillance grid.
From what can be gathered between the lines and elsewhere, there's a leadership issue.
Stéphane Graber later added: "Canonical upper management apparently expects a community project to have the majority of its code contributed by external parties which LXD obviously didn't. With a team of 10 or so to the engineers, Canonical likely contributed 90% or so of LXD's code. I do strongly disagree about this being the main metric of the success of a community though…"
Gabriel Reiser responded: "Sad that they no longer understand the open source model and expect the community to get behind uninspiring leadership. LXD will live on. Canonical however, needs to find itself again."
Maybe they hired the wrong managers, as the video points out. This happened in Sirius. When I left the company nobody in the management used Free/Open Source software. It had been like this for years already.
Comment or conclusion from my wife: "My personal view is, when the company changes its mission and vision, that's a red flag, followed by the exodus of many, e.g. colleagues, managers, and even interns — and that is also another thing. Life in general isn't going to revolve around work and money, that isn't the essence of it. The feeling of freedom and fulfillment are most rewarding and that's something which I haven't felt for a long time until I left my job."