Saturday, December 3rd, 2022, 11:45 pm
The Old Sirius 'Open Source' Was a Patron (Sponsor) of KDE and FSF
Filed under:
Roy Schestowitz
at 11:45 pm
Summary: The company my wife and I joined was (at the time) still Free software-centric and reasonably friendly towards staff; today we examine Sirius of a decade ago
IN THE previous part we showed some preliminary statements about this report regarding Sirius 'Open Source', a company known very well from the inside for nearly 12 years. Today we can introduce the softer side of Sirius or what Sirius used to be.
---
The Open Source Era
At the Beginning
Sirius is early Patron (sponsor but a more modern term for sponsorship) of KDE, a prominent European project for GNU/Linux- and BSD-centric desktops and laptops. Sirius is also an early Patron of the FSF, which stands for the Free Software Foundation (listed and thanked by the FSF for several consecutive years, as The Internet Archive's Wayback Machine confirms). The FSF was established in the mid 1980s, i.e. almost 1.5 decades before Sirius was even founded. Many early employees of the company were GNU/Linux users, KDE users, even Debian Developers. They were highly technical people who shared the philosophy reflected upon by these (aforementioned) generous donation.
The Wayback Machine shows the Sirius site (old snapshots). Wayback Machine screenshot of the front page: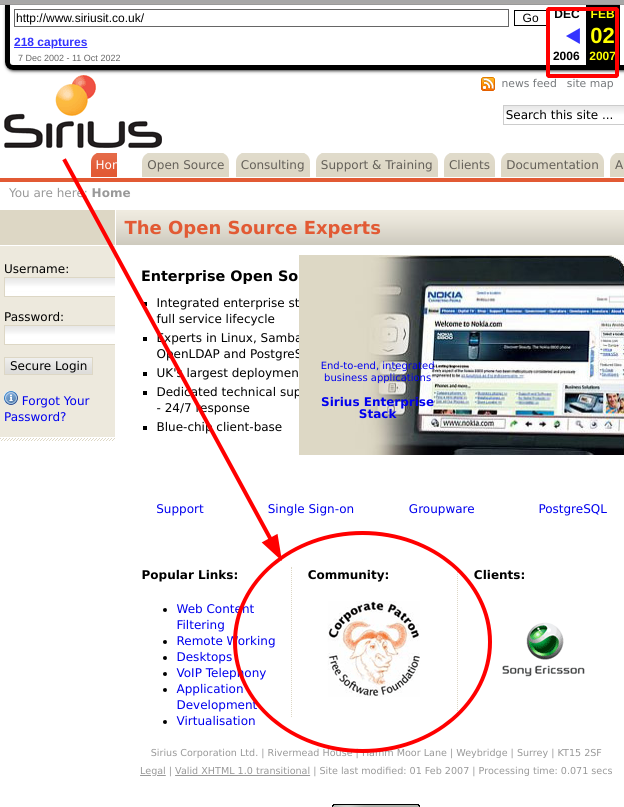 Wayback Machine screenshot from the FSF:

The company was able to attract high-calibre staff based on these credentials and hard-earned track record. Roy too was attracted to the company based on these publicly- and readily-visible credentials.
People worked overtime to please Sirius clients, some of which were very high-profile. Sadly, as we shall show later in this document, that's no longer the case and hasn't been so for several years. The company is living off or leeching off its (distant) past reputation and is extremely paranoid about people finding out about a rapid pivot across numerous dimension, e.g. in-house technology, levels of relevant skill mastered by staff, overt nepotism, and promotion of technologies not compatible with the company's original mission statement. A lot of the work produced by the company — and it is no longer so much in-house work — leverages Open Source/Free software (libre, or free as in freedom) but does not share back the contributions (or mere code changes), even when initially there's intention to do so, even if not for licence compliance purposes but status (companies that share back code and don't just use or exploit code have better karma, averting the image of becoming parasitic to the community).
An Exercise in Optics
The company's Web site is intentionally outdated. It projects outwards an image of a company that may or may not existed about half a decade ago. Some of the clients being bragged about are well over a decade old. The intention there is to use past clients, no matter how old, to present a credible, potent, highly-experienced firm with high competency. A lot of the actual work gets done by associates (external contractors), not dedicated staff, and those associates have their own firms, which aren't connected to Sirius at all, except maybe loosely. We're left to assume that Sirius quietly transforms into a sort of middleman or reseller across a number of domains. For instance, there are a number of things Sirius claims to be supporting, but managers inside the company have no actual staff familiar with ways to maintain such things, so Sirius would typically contract outwards or outsource. This is a crucial point. This isn't how the company presents itself to the public.
The company, at least in the past, not only had legitimate credibility in the Free/Open Source software world; it goes beyond that. This is well documented and it's not too hard to find the company's founder cited extensively in the technology-centric media, especially over a decade ago (Roy used to cite him a lot, including in his site, Techrights). The founder is very visible in national and international press.
The company made a name for itself by attending international events and even hosted an event promoting the use of OpenDocument Format (ODF) in the UK. That's vital advocacy of Open Standards at a very crucial point in time (format wars and struggles against vendor lock-in). As we shall see later on, these laudable outreach efforts have played a considerable role in attracting Roy's interest in the company. As an aside, the company first sought to recruit Roy, way back around 2006. The founder of Sirius phoned Roy when Roy was completing his Ph.D. degree in Victoria University of Manchester.