Monday, December 5th, 2022, 10:57 pm
Sirius Open Source Has Long Been Blind to Criticism
Filed under:
Roy Schestowitz
at 10:57 pm
Sirius shown to the public as women-friendly a decade ago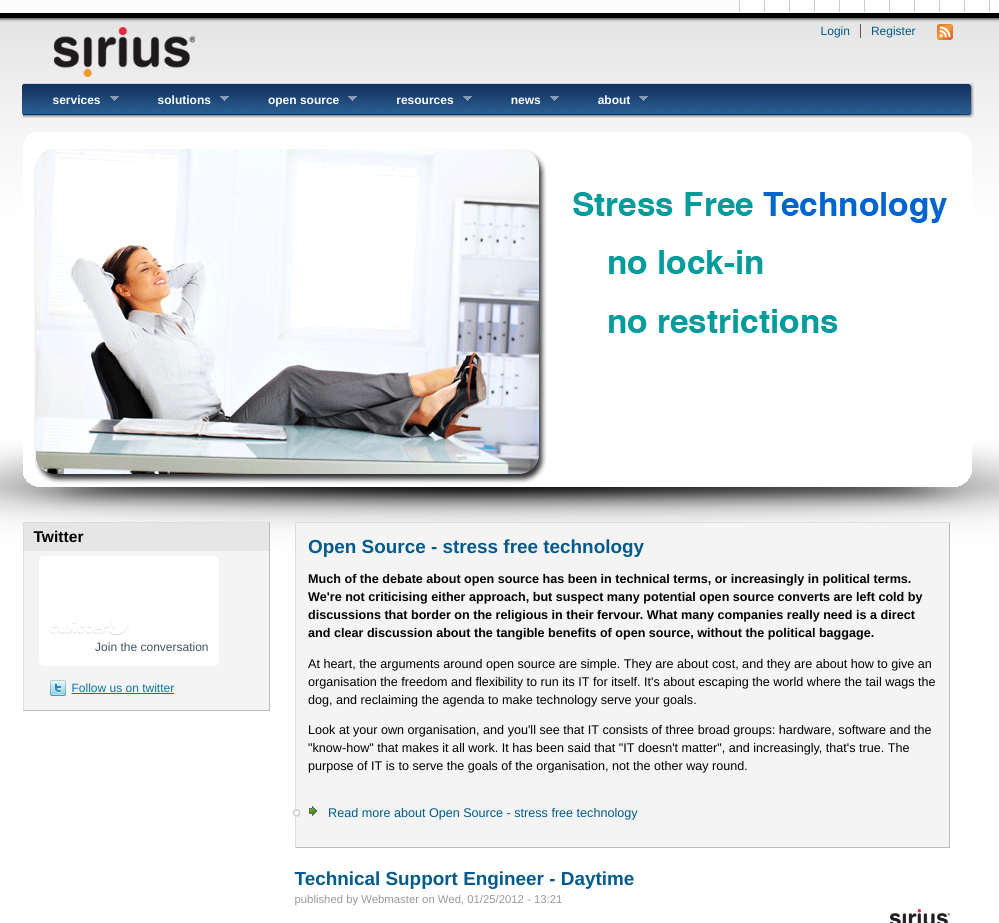 Summary: Sirius 'Open Source' was taken to court after it had wrongly fired a couple of employees, one of whom was blind; this was accompanied by lies about why the staff's communication server was shut down
THE year was 2011 or thereabouts. Sirius hired a kind German lady, was also completely blind. Colleagues were happy to help, but clients were not being informed that she was blind and management feared that clients might find out that she was blind. A year or two later she was fired and simply 'vanished'; nobody was allowed to talk about that.
This, among other incidents, is an example of a ruthless company that does not tolerate staff dialogue and relies on secrecy (or clients being blind to what really goes on). The relevant part of the report is below.
---
Blindness to Criticism
The foundations of the company need to be protected, not the personal agenda of pertinent, individual workers and/or cliques/factions of workers. Lack of communication blinds us to our weaknesses. Over a decade ago when the company-wide Jabber server was disabled (probably to prevent unity and sympathy among staff) workers' ability to interact with colleagues was curtailed, leaving everyone in a position where supporting clients was a lot harder. The widespread belief at the time was that the server was intentionally offline (nobody wanted to talk about it, let alone lie) because the company faced a lawsuit from a couple wrongly accused/dismissed (at least one of them). Roy and Rianne have supported blind people's charities for nearly a decade already, so recalling how the company treated a blind colleague, likely an innocent colleague, is a bit of deja vu in light of later sections of this document. Roy and Rianne poured in a portion of their income (received monthly from Sirius) into blind people's charities after the company, Sirius, had unfairly dismissed a legally blind — and much-liked among her colleagues — vulnerable lady.
Sirius was not always criticised or fearful of criticism, certainly not as a whole (criticising one particular aspect of Sirius is not the same as just rejecting Sirius as a whole). In fact the company used to boast true transparency (also full access to the wiki, which Roy helped manage/install), like telling workers not only which clients were paying but also how much they were paying (so it was possible to understand the commercial side of things). In some sense, workers felt connected to the company, not left out to hang. Internal presentations in the company, or even the habitual workshop, gave all workers a lot of information. The accountant and other people met staff in person, offering good advice on a number of things. Not much was outsourced or left behind walled gardens.
Things have changed a lot since then.