Sunday, January 29th, 2023, 11:05 pm
Abandoning Free Communication Software to Adopt Proprietary Bossware
Filed under:
Roy Schestowitz
at 11:05 pm
And the management that chose this junk resorts to blaming the victims
"Giving the Linus Torvalds Award to the Free Software Foundation is a bit like giving the Han Solo Award to the Rebel Alliance."
–Richard Stallman
Summary: When the company where I worked for nearly 12 years spoke of pragmatism it was merely making excuses to adopt proprietary software at the expense of already-working and functional Free software
LAST night we covered the use of Microsoft Skype in Sirius 'Open Source'. It only happened once, but that was enough to damage the brand and injure some workers' morale. Why would a company called "Open Source" something be eager to abandon Free/Open Source software, opting for proprietary stuff of the most vicious rival? What message does that send to longstanding clients or existing staff? What about potential/prospective/future clients and staff?
Slack on GNU/Linux is a mess. Slack on Free/libre browsers is almost an impossibility. So why on Earth would Sirius move away from Jabber and force/impose the use of Slack? I've uploaded 2 images from several years back; they're screenshots of what happened when I tried accessing Slack from a GNU/Linux PC using a decent Web browser that isn't controlled by spying firms: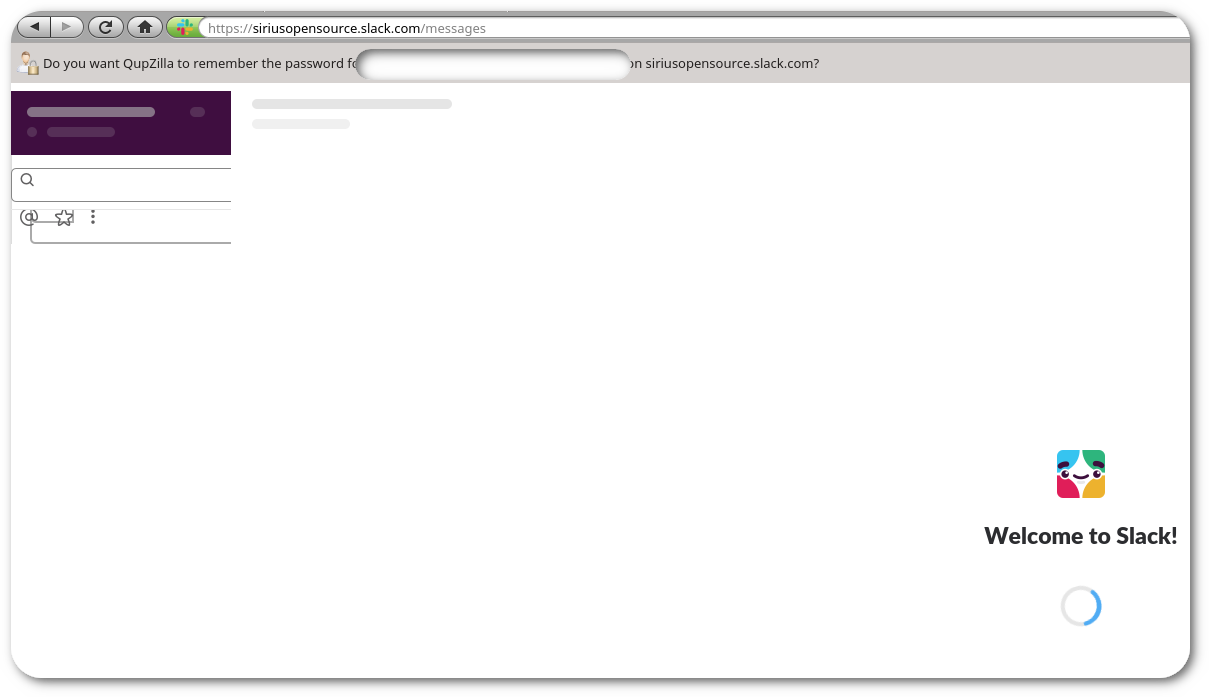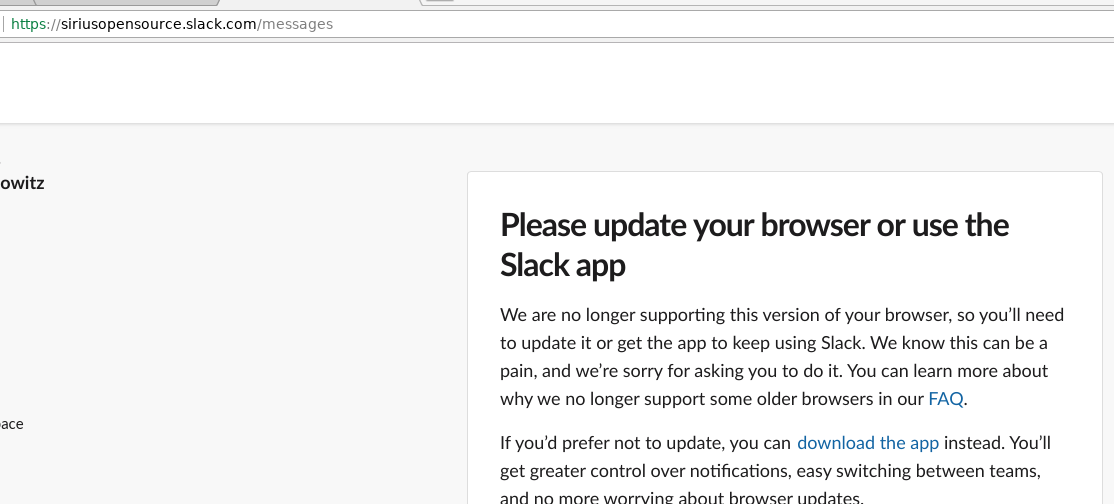 That does not seem like it's going to work, does it? This is from 2019. It has only gotten worse since.
So we've just belatedly used two screenshots of what Slack looks like on GNU/Linux with a proper (Free/libre) browser; "bossware" that insists on browsers which spy on their users. Using some User Agent (UA) sniffing they try to undermine or prevent access with perfectly capable browsers (if the UA is faked, there's a way to get in).
Back then I wrote to an incompetent manager who threatened me repeatedly for not using Slack: "I tried to access my account from two computers, from two browsers, including Chrome. It's not working. See screenshots. It only works from Rianne's laptop."
At one point they agrees to let me use Rianne's laptop, but then they "changed their minds" (in other words, they had lied to me right to my face in the illegal contract-signing). I got this:
xxxx wrote on 21/07/2019 02:23:
> Hi Roy,
>
> You need to fix this problem and use Slack.
>
> You are a well qualified tech who can fix this issue and comply with
> management's request.
>
> As I have explicitly explained to you that you need to have your log in
> for Slack and not use Rianne's. Yet today you're logged in via Rianne's
> and not using yours even though you sent me details of your own log in.
>
> To refresh your memory, this is from my previous email.

I need to install a new OS or a new browser for this.
Remember that the company never even paid us for any of our hardware purchases (for our work machines). That seems unreasonable.
In hindsight, it seems clear this manager scared away almost all the technical people. The damage was irreversible.
Slack itself has been having issues and it was sold to Salesforce. The New York Times reported Salesforce layoffs earlier this month. The Wall Street Journal published this article noting that Slack just made bloated proprietary junk nobody truly wants to depend on:
When Salesforce Inc. bought the messaging application Slack for $27.7 billion almost two years ago, it said the marriage would "transform the way everyone works in the all-digital, work-from-anywhere world." Corporate technology buyers so far aren't impressed, analysts said.

The acquisition sought to capture the fast-growing market for communications and collaboration software during the Covid-19 pandemic, as employers sent workers home and shifted to remote systems.

Today, companies in the market for customer-relationship management software?—?Salesforce's signature product?—?don't appear to be swayed one way or another by the addition of messaging and collaboration features, said Liz Herbert, a vice president and principal analyst at information-technology research firm Forrester Research Inc.

"We don't really see, when it comes to Slack, any pent up demand from Salesforce's base for a tool like that," Ms. Herbert said. "It really hasn't become something compelling," she said.
Salesforce bought itself a dud and in December of last year the CEO said that he would leave this month.
From what we can gather, the decision to adopt Slack came from the CEO, who posted Trump support tweets while encouraging staff to use pictures of superheroes in Slack. How childish and unprofessional. What a betrayal of Free software. Is this really the same person who became a patron of the Free Software Foundation? Maybe his personal life took him on a crazy ride — a subject we might revisit some other day in another month.
To be clear, Slack doesn't do anything that Free software cannot do. It's bloated and it is not secure. It also has security breaches.
Just two days before the above E-mail message (from a manager) I received this:
——– Forwarded Message ——–
Subject: ???? Slack Security Incident
Date: Fri, 19 Jul 2019 16:58:59 +0000
From: Keybase <notify@keybase.io>
To: r@schestowitz.com

*schestowitz*,

We've been getting questions about this, so an announcement for everyone.

Today, Slack announced that a break-in from 2015 was possibly more
severe than previously announced. A lot of people have been getting
emails today. It seems 1% of Slack users still had compromised accounts
(after 4 years); but more seriously, Slack has not disclosed what
percent of Slack teams had their messages stolen. Also, if a small
fraction of users have had compromised accounts, that may still mean a
majority of teams were compromised.

We're sending this note because people are now asking if this could
happen with Keybase teams. Simple answer: no. While Keybase now has all
the important features of Slack, it has the only protection against
server break-ins: *end-to-end encryption*.

Keybase's CEO, Max, just wrote how this Slack incident personally
affected him *in a new blog post* .

tl;dr. Hackers who break into Keybase's servers could not read your
company's, family's, friend's, or community's messages. Hope this simple
update answers everyone's questions.

*https://keybase.io/app*

And Keybase is free!
?? the Keybase team

Slack took over Keybase and Slack itself was a vulnerable piece of garbage with habitual data breaches. The Keybase reputation was tarnished and not many people seem to be using it anymore, certainly not me.
I eventually responded to the manager as follows:
> Hi Roy,
>
> You need to fix this problem and use Slack.
>
> You are a well qualified tech who can fix this issue and comply with
> management's request.
>
> As I have explicitly explained to you that you need to have your log in
> for Slack and not use Rianne's. Yet today you're logged in via Rianne's
> and not using yours even though you sent me details of your own log in.
>
> To refresh your memory, this is from my previous email.

I'm going to try to install another browser, as Chome and other browsers
don't work for me. They don't show anything when I log in (I sent you
screenshots). Maybe I'll be logged in with my username in a few hours
when it's installed (if that works).

In the meantime, I have to raise other concerns.

The inevitable has happened to Slack. They announced it days and and
they can be held criminally accountable

To say that Slack got merely "compromised" would be an understatement
Yes, it did in fact get compromised, but it's a lot worse. It's far
worse than a compromise per se. I'm going to explain, starting with the
basics.

Slack accumulates all data and never deletes any of it. GDPR should be
applicable here and I suspect that EU authorities have not assessed that
aspect just yet. What Slack is to users isn't what it is to Slack, the
company. The Electronic Frontier Foundation (EFF) issued strongly-worded
warnings about Slack and even Microsoft utright banned Slack for
security reasons. They very much foresaw the latest disaster. It's
difficult to assess or measure because it's almost impossible to track
the sources of rogue actors' data.

Slack did not have a mere 'incident'. They knew about it for quite some
time (at higher levels, too). It's the complete doomsday scenario, an
equivalent of having one's own Jabber server completely and totally
hijacked, and all communications in it (names, passwords) stolen. But in
the case of Slack millions of businesses are affected. In one fell
swoop. Just like that. Even the public sector. Military, hospitals, you
name it…

Slack got cracked, but they won't admit that. They will lie about the
extent of the damage, just like Yahoo and Equifax did (each time waiting
months before revealing it was orders of magnitude worse). They game the
news cycle that way. People must assume that all data is compromised.
Businesses and their clients' data is on Slack. Even HR stuff, which
gets passed around in internal communications. Super-sensitive things
like passwords, passports and so on.

Who was Slack data copied by? Mirrored or 'stolen', to put it another
way? Possibly by rogue military actors that can leverage it for
espionage and blackmail, as many do. Covertly. You rarely hear about
blackmail because that's just the nature of the blackmail. It happens
silently. Some would say Slack got "hacked" (they typically mean
cracked). But it's actually a lot worse than getting cracked! I'll
explain further…

About a month ago Slack got to its IPO milestone. But it committed an
actual crime by not informing the customers of the breach. They would
change passwords etc. had they known. But Slack did not obey the law. It
did not inform customers. It announced all this after the IPO, in order
to make shareholders liable, and it did so late on a Friday (to minimise
press coverage about this likely crime). The shareholders too should sue
for concealment of critical information.

Slack knew what had happened and why it waited all this time. This
scandal can unfold for quite some time to come.

It would be wise to move to locally-hosted FOSS. However, that would not
in any way undo the damage of having uploaded piles of corporate data to
Slack and their compromised servers. In the coming days many companies
will come to realise that for years they tactlessly and irresponsibly
gave piles of personal/corporate data to Slack and now a bunch of
crackers around the world have this data.

You can expect Slack to stonewall for a while, saying that it's the
weekend anyway. When it comes to Slack, expect what happened with
Yahoo; First they say it's a small incident; Months pass; Then they toss
out a note to say it was actually big; A year later (when it's "old
news"): 3 BILLION accounts affected.

Now, like Yahoo, they will downplay scope of impact. A lot of companies
can suffer for years to come (e.g. data breaches, identity theft).

I have great concern for the company where I'm working for almost a
decade, including our compliance with the law and our clients'
compliance with the law. This is why I bring this up.

I'm going to install something new and see if I can somehow logged in. I
already tried, unsuccessfully, from two of my laptops.
In summary, Slack is a pile of garbage. With Slack, Sirius too became a pile of garbage. They deserve each other.
A few weeks ago John Goerzen wrote: "I loaded up this title with buzzwords. The basic idea is that IM systems shouldn't have to only use the Internet."
Slack does not work when the company has downtime. It happened several times, which meant people could not speak to colleagues for hours. Why was our Jabber server shut down? Surveillance through Slack?
Remember that Sirius kept promoting fake security as if the company is a bunch of people who never used computers before. When clients ask about ISO certification (not an isolated incident) they don't seem to understand what truly happens inside Sirus. There's spying, outsourcing, security breaches and so on. Someone needs to talk about this.