Friday, February 3rd, 2023, 7:05 am
Summary of the Issues at Sirius Open Source
Filed under:
Roy Schestowitz
at 7:05 am

From Rianne's departure message about Sirius 'Open Source'
Summary: Sirius is finished, but it's important to share the lessons learned with other people; there might be other "pretenders" out there and they need to be abandoned
THIS is by no means a complete summary; the Sirius 'Open Source' wiki contains a more complete overview. However, this is an abbreviated summary focusing on the issues at hand, rewriting them for an audience that might think about leaving a toxic employer but isn't sure why or how. Some readers have asked for such a summary as they consider doing the same.
We've decided to use the existing articles' index to make this grand summary of the issues, split suitably for quicker digestion (covering unions, staff health etc.) and omitting more employer-specific scandals, e.g. illegal contract-signing (we included a response to my initial refusal/declination and others'), E-mail clippings as evidence and so on.
The short story is: do not participate in lying and in illegal acts. If you feel like your employer is heading in this direction, prepare to leave.
Don't wait too long. Do not attempt to rationalise staying. Your morality is more important than short-term conveniences like "paying the mortgage" or "staying with colleagues".
I joined Sirius 12 years ago (in February of 2011). The CEO was kind to me at the time. We've shared a screenshot from the Internet Archive of the company's old site (back when it was a sponsor of the Free Software Foundation). The CEO, as I found out much later, was hopping from one woman to the next, saddling them with daughters whom he failed to take care of. He was getting married when I spoke about joining, marrying a manager in the company — a manager whom he had already had a child with. It was maybe too late for me to properly understand the chronology of it, but it seemed benign at the time. It smacked of nepotism already, but at least the spouse had actual experience as a manager. Similarly, my wife had a degree in Computer Science. The CEO, as I recently found out, was also allegedly cheating on his second wife. We're still investigating the nature of that as it impacts the company directly. The CEO is not a good person. I was warned about him being a chronic liar some time around 2006, but I did not fully heed this warning.
The company was in disarray in (or by) 2022. Heck, it was standing on one foot for several years already (maybe since 2019). In 2021 they sent me a bogus message about "disciplinary note", simply because I'd not say "hi, it's Roy" or something inane like this over the phone. The management failed to prepare staff and then tried to blame the staff, which was assigned to handle clerical work using a truly defective product with impossible demands (answering within 3 rings).
My 'tenure' at the company was generally good; nobody complained and I was "Star of the Week" (10-pound voucher award) about a decade ago. I also have some other physical certificates that they sent me in recognition (e.g. laminated finish on paper for my 5-year anniversary).
So what compelled me to leave?
A lot of things.
Above all, the ethics associated with the job became far too problematic. I wrote about this in my blog last summer and again when I left this past December. Some clients were truly awful and immoral. I don't want to name them, and thankfully I've avoided working with/for them. By this point Sirius kept announcing clients that later turned out to 'pre' announcements (or truly premature as nothing ever came out of it). The managers were desperate to give a false impression (illusion) of getting business and some of the actual "business" they attracted is worse than nothing. Some past clients did not wish to associate with Sirius and at least one past client (telephony sector company) asked to be removed from the fake "clients" page of Sirius.
I can't blame those clients. Being associated with Sirius was becoming a liability to them. Search for 'The Liar' in the headlines here; you'll see what I mean… don't tolerate any bosses who keep saying they're too busy to reply to E-mail from staff; so what are they doing all day? If they don't even respond to staff, then it's not clear if they're busy at all; they could just as well pretend to be "busy" by not doing anything at all, then use that as an excuse or "evidence" of the busy-ness.
The Liar (nickname) later resorted to using flimsy 'evidence'. He said, without any evidence, that I had uttered something "defamatory"; it took two weeks to actually show something and what they then showed was some side IRC channel (that nobody reads) stating perfectly factual information about my experiences, without naming people or any company. It was a chat between just two people and didn't reveal anyone's identity. It was factual and necessary; it was moral to object to bad ideas. Blind obedience and unquestionable docility should not be seen as a merit.
The company was, at this point, not even an attractive employer. Set aside the ethical deficit. It had no actual office (Sirius used to host for clients, not outsource for them) and had some technical workers compared to "monkeys" (even treated as such). In recent years it became trivial to show, using documents in the public domain, that the company was operating like a shell. It was simple to show it's getting worse over time and unbearable debt was growing. The company was going to go under (just a matter of time) and the staff had no prospects of progression (well, no chance at progression except through nepotism (like family) or sex); the company was no longer "open source", except in name, bragging about ISO certification (see The Inside Story of ISO 'Certification' Mill) while gaslighting people who actually value security/compliance.
If you work in a company such as this, don't expect it to improve. The people with greater skills and integrity likely left already. They won't be coming back.
Not only did the company ignore the warnings from me (about security problems), it didn't even change passwords, alter providers, or self-host an actual "Open Source" alternative that doesn't lie about security breaches. Sirius kept paying huge bills for "clown computing" (instances that were idle almost all the time) and my suggestion of self-hosting, like we did before, were dismissed as "hobbyist" by the CEO. So what is to be sold as a service? Outsourcing?
For more information about these things, revisit the parts about "How Carbon Accounting Became a Cover for Sirius Open Source Ltd." and "How Sirius Open Source Ltd. Felt Deep Into Debt" (super dodgy).
By the time we left (in 2022) the company was quite frankly broke and not worth suing for severance. It had likely plundered some older pensions already (still the subject of an ongoing probe; photographs of letters from the current pension provider suggest they might try this again). This became a cultural, chronic problem. For instance, the management lied about providing recordings of meetings in 2019, so I started making my own recordings of such meetings. I could not trust managers' words. Such chronic lying and false promises are a sign it's time to leave (or prepare to leave). I already prepared in 2019, but then COVID-19 happened. The managers like to tell themselves they did us a favour. But people who are idle a lot of the time because they work overnight, devoted to complex tasks of monitoring many things and responding, can never sleep well. This impacts their physical and mental health. They make personal compromises while getting paid laughably little. For projects to be done (e.g. programming) one needs a proper daytime job without distraction and with decent pay.
Sirius Open Wash Ltd. (maybe a suggested name for another — likely third — shell entity) would be letting Windows users who adore surveillance get involved in decision-making, grabbing Gates Foundation money to pretend they have a future (Gates never needed a British company to handle something thousands of American firms can easily handle). Seeing that the CEO's and the company's Twitter accounts (all of them) have not tweeted anything since last summer, we suppose no other shell will be created. Sirius is finished. Jobs were advertised by the company's account in Twitter last year, but only on short-term contractual basis. It now says the company is also US-based and says laughable things like Sirius being American leaders in the area (Sirius has almost no clients and staff there), simply because the chief absconded, escaping responsibilities for his family which he ditched (so he can have sex with another woman, apparently some American he met).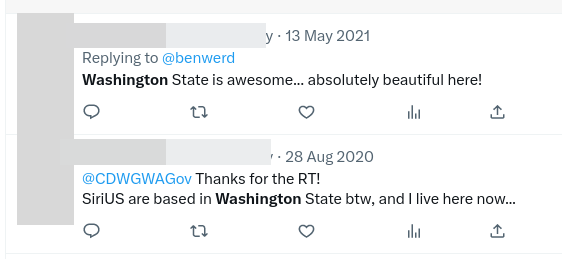 So he's likely running away to dodge litigation and maybe dodge payments to the two former wives and 4 daughters, especially the young ones (early teens at this time).
This series has attempted to be impersonal (no names), but at some point it can get trickier. We still try to work around the secrecy of the NDA and figure out what exactly happened in 2019.