Friday, July 22nd, 2005, 4:37 am
Expensive Developers, Cheap Hardware

Filed under:
Roy Schestowitz
at 4:37 am


Linux computer for under $255 in the UK (click to enlarge)
ithin this post lies my main argument as to why Linux (or complimentary Open Source streams or movements) will rise hugely in less than a decade. The cost of production continues to slide while human intellect (development) is among the more expensive commodities. The Zipit demonstrates that by using Linux, the leading free operating system, a PDA with WiFi, 320×240 pixels display and stereo DAC can sell for as little as $99.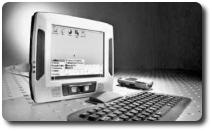 $299 for the entire package

In Britain, Dabs are now selling a Mandrake 9.2 Linux box (quicklinx 3QV3WS, no monitor is included) for 140 British pounds ($245) excluding VAT. Elsewhere in the world, the fully-featured MOBILIS computer (shown above) goes for only $299 list and speculations are made as to why commercial software will perish once hardware costs equate to it.
Enterprises still need software, and lots of it, to run their operations, but they are buying few new licenses. Part of the story is that the market is mature and buyers have enough software already. Part of the story is that offshore outsourcing makes it cheaper to build your own. A big part of the story is the appearance of more efficient alternatives, such as open source.
With such low prices across the market, buying a larger number of computational units is possible for prices that are comparable with that of several Windows PC's or Apple Macs. Server rooms will benefit in terms of performance, as they do already. Homes will be able to offer a computer to each member of the family or exploit computers for otherwise remote uses like home entertainment, productivity and automation in the garden , the kitchen (see kitchen of the future) and even the car.

Comments Off
|

Send this to a friend