Friday, December 7th, 2018, 6:56 pm

Filed under:
Roy Schestowitz
at 6:56 pm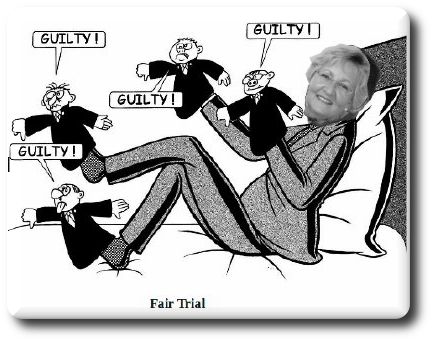 eonie Brinkema, appointed by Bill Clinton, works in a kangaroo court; it's widely notorious for a rubberstamping-like behaviour in a variety of deeply political cases. "No one should have to face criminal charges for publishing truthful information," said a letter to the editor yesterday, highlighting the nature of what some whistleblowers had done and got punished for. In exchange for them exposing crimes they got treated like criminals and this is more or less the job of Leonie Brinkema, protecting criminals by putting in prison those who spoke about these crimes. I don't know Leonie Brinkema personally and it's not even simply to find a simple photo of her face (drawings are out there and she looks a lot more furious in them).
It is expected that if (or when) Julian Assange gets 'kidnapped' and 'shipped' to the US Leonie Brinkema will be the sociopath who sentences him to death (or prison until death) for merely exposing the crimes of people like those who appointed her. What a crazy world we live in. They call it "justice", but to those who set this court up it's "just us".