Friday, July 23rd, 2010, 5:54 pm
Techrights
Filed under:
Roy Schestowitz
at 5:54 pm
or no apparent reason, I rarely discuss Techrights in my personal Web site. This is not intentional.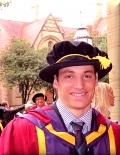 The thing is, Techrights is the reason I hardly ever update schestowitz.com anymore. I spend a high number of hours sharing my thoughts over at Techrights, so if you are already subscribed to my personal blog, please consider subscribing to Techrights.org too. It mostly covers software and ethics.
On a separate note, Google has been looking to hire me recently (they do this with a lot of people and they occasionally contact me too), but I am torn between my obligations to serve the public interest and someone's private interest.
What do you think? Is Google not evil? About 90% of my writings about Google are positive; the rest are not.