Saturday, September 10th, 2005, 3:59 pm
HP to Ship Linux

Filed under:
Roy Schestowitz
at 3:59 pm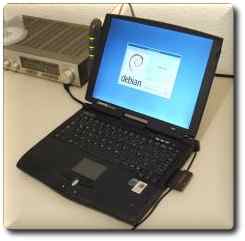 Debian on a Compaq. Compaq were
acquired by HP and Ubuntu is based on Debian Linux.

NE of the key challenges that Linux has faced lately was its inability to get shipped by giant hardware distributors. A milestone can now be marked as Hewlett Packard begins to sell Ubuntu Linux, pre-installed on both desktops and laptops.
HP's Sean Owen-Jones… said the company would shortly be releasing desktop and notebook PCs running Ubuntu Linux. The NX6110 notebook would be available shortly with Ubuntu and a desktop PC would also be available.

…

[HP's] Schulz said that HP's entire email infrastructure… is run on Linux and delivers in the region of three terrabytes [sic] of mail annually.
Next up: Dell Computers.
Why you might ask?
Rather recently, Michael Dell asked Steve Job (of Apple) if he could take advantage of Mac OS X, which is now compatible with x86 architectures. Mac OS X , which is Linux-based (see correction in comment), can easily be incorporated into a massive stock of Dell machines. Tiger, being the most recent version of Mac OS, is taking some niches by storm already, security and eye candy being a major pro.
More importantly, as I pointed out 2 months ago, Michael Dell gave $100,000,000 to RedHat Linux out of his own pocket while Fujitsu opted for SuSE Linux and server support services.
To spice up this discussion, a Gartner Group study concluded that mainstream use of open source in IT environments may be just 5 years away. What a glorious turn of events.